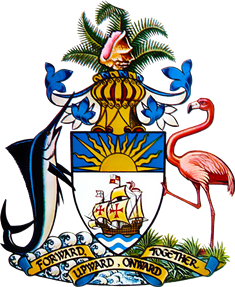 The Hon. Marvin Hanlon Dames
Minister of National Security
Member of Parliament (FNM)
National Security, Ministry of
Charlotte House North (1st Floor)
Shirley and Charlotte Streets
P. O. Box N 3217
Nassau, N.P., The Bahamas
nationalsecurity@bahamas.gov.bs
Phone:
(242) 502-3300, 356-6792/3 or 356-4400/3
Fax:
(242) 356-6087
Biography
The Hon. Marvin H. Dames
Minister of National Security
While upholding the ideals of courage, integrity and loyalty, Marvin Dames faithfully served in the Royal Bahamas Police Force for 23 years, steadily rising within the ranks to become Deputy Commissioner of Police in 2010. He became Vice President of Security at the $3.4billion resort, Baha Mar, in 2011.  In 2016 he formed the Dames Group to bring first-class security services to The Bahamas.  On May 15, 2017, Mr. Dames was sworn in as the Minister of National Security.
Marvin Hanlon Dames is the fifth child born to Wilmore and Shirley Dames (nee Beneby) on the island of New Providence. Mr. Dames received his early education at the Government High School. He is a 1987 graduate of Ohio State University in Columbus where he completed a Bachelor of Arts degree in Criminology.
Mr. Dames' interest in criminology and policing was sparked as a youngster as his father was a proud and long-serving gazetted officer of the Royal Bahamas Police Force. During Mr. Dames' tenure as a police officer he was attached to a number of divisions including the Carmichael Division, Criminal Investigation Department and Drug Enforcement Unit.  He also had numerous international attachments including the Metropolitan Police Service in the United Kingdom and a one-year attachment at the Toronto Police Service in Canada where he worked in the office of the Chief of Police.
His long-standing police career has afforded Mr. Dames the opportunity to complete programmes at top law enforcement schools: in 1994, the 176th Session of the FBI Academy in the United States; in 1996 the Royal Canadian Mounted Police College in Ottawa, Canada; and in 2005 a five-month Strategic Leadership Programme in the United Kingdom. 
Mr. Dames has published several local and international articles on Policing and Security. In 2009 he was selected to serve as the Editor for the International Police Journal and has also lectured at home and abroad specifically throughout North America and the Caribbean on policing and security related issues.
Mr. Dames is the recipient of several national awards. In 2010, he was awarded the Queen's Police Medal, in 2009 the Long Service Medal and in 2001 the Meritorious Service Medal.
While serving as Senior Assistant Commissioner of Police from 2007 to 2009, Mr. Dames had the responsibility to oversee Uniform Command; Operations; Border Patrol and Port Security.  As Deputy Commissioner of Police from 2010 to 2011 he was in charge of standards of accountability and quality control within the entire organization.  Mr. Dames is also credited for leading the reform of the country's Detective and Intelligence Divisions specifically the devolution of the Criminal Investigation Department to Central Detective Units.
As Minister of National Security Mr. Dames' portfolio includes responsibility for the Armed Forces and ultimately for the protection and guarding of territorial sovereignty and integrity of The Bahamas and its citizens.
Mr. Dames and his wife Stacey (nee Cumberbatch) are the proud parents of two children, Joshua and Kai.
Agency Notices
Short-Term Consultancy Position Available - Component III Coordinator

See details...

Short-Term Consultancy Position Available - Feasibility Study-Violence Interrupter Model

See details...

Short-Term Consultancy Position Available - Needs Assessment and Plan for Prison Industries

See details...
Useful Links