Please be advised that laws.bahamas.gov.bs is currently being updated.  The link will reappear on all agency websites once this process has been completed.  We apologize for the inconvenience.
News & Press Releases
Prime Minister Christie addresses the United Nation's ECONOMIC AND SOCIAL COUNCIL

March 29, 2015

Prime Minister Christie is in New York at this hour to participate in a high level dialogue during the 2015 integration segment of the...

> more

Transport and Aviation Minister Announces Plan To Re-Develop Potter's Cay Dock

March 27, 2015

Minister of Transport and Aviation the Hon. Glenys Hanna-Martin took a tour with stakeholders and the media to see the plans to re-develop the Eastern End of Potter' Cay Dock...

> more

Coming to
The Bahamas

Doing Business
in The Bahamas

Quick Links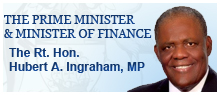 How Do I...

Register for e-Services?
 
For Instructions Click Here
Value Added Tax (VAT)
Cellular Liberalisation Task Force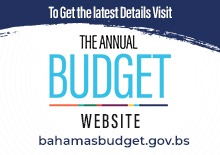 Notices
What's New in Government?