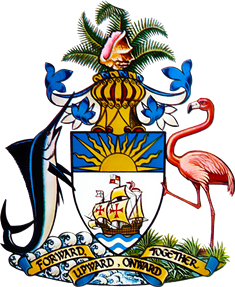 The Hon. Dr. Bernard J. Nottage
Minister of National Security
Member of Parliament (PLP)
National Security, Ministry of
Churchill Building
Rawson Square
P. O. Box N 3217
Nassau, N.P., The Bahamas
nationalsecurity@bahamas.gov.bs
Phone:
(242) 502-3300 (242) 356-6792/3 (242) 356-4400/3
Fax:
(242) 356-6087
Biography
THE HON. DR. BERNARD NOTTAGE
M.P., BAIN TOWN and GRANTS TOWN
MINISTER OF NATIONAL SECURITY
LEADER OF GOVERNMENT BUSINESS
IN THE HOUSE OF ASSEMBLY
Dr. Bernard "BJ" Nottage was born in Nassau on October 23rd, 1945 to the late Olivia Nottage. He is married to the former Portia Butterfield and they are the parents of two sons. Dr. Nottage is a member of the Anglican Church community. His hobbies are sports, exercising, traveling and reading.
Political Highlights: Dr. Nottage was sworn in as Minister of National Security and Leader of Government Business in the House of Assembly on May 10, 2012.
Present Ministerial portfolio includes: Leader of Government Business in the House of Assembly, the Royal Bahamas Police Force, Royal Bahamas Defence Force, Prisons Department and the Parliamentary Registration Department.
Dr. Nottage served in the Cabinet of the late Rt. Hon. Sir Lynden Oscar Pindling and was also co-deputy leader of the Progressive Liberal Party. Dr. Nottage was elected CEO of the Coalition for Democratic Reform in February 2000 and served until he returned to the PLP in 2005. From 1998 to 2006 he served as Chairman of The Centre for Positive Change. In November 2005, he was appointed to the Senate and on February 21, 2006 he was appointed Minister of Health and National Insurance in the Cabinet of the Rt. Hon. Perry G. Christie. He also was appointed Leader of Opposition Business in May 2007. Mr. Nottage has also served as the Member of Parliament for the Garden Hills Constituency from 1987 – 1992.
 He was appointed and served as Chairman of the National Insurance Board from 1982 to 1987. He was also appointed Minister of Consumer Affairs in 1989, and Minister of Education in 1990. He is the Past Chairman of the Public Accounts Committee; and the Select Committee on Crime.
Education: He received his training as a gynaecologist at the University of Aberdeen, Scotland and The Royal College of Obstetricians and Gynaecologists.
Civics/Social: An outstanding athlete in track and field, BJ Nottage was also a long time president of the Bahamas Amateur Athletics Association (BAAA). He was also the former president in the following entities: Medical Association of The Bahamas; Bahamas Doctor's Union; The Bahamas Family Planning Association; and The Central American & Caribbean Athletic Federation. He is also the organiser and coordinator of numerous athletic competitions in The Bahamas including: Carifta Games and the Central and Caribbean, Senior, Junior and Youth Athletic Championships.
Professional/Career:  He is a Consultant in Obstetrics and Gynaecology at both the Princess Margaret Hospital and St. Luke's Medical Centre.
As the Member of Parliament for Bains Town & Grants Town, Mr. Nottage plans to continue building his constituency through the following:
Introduction of an innovative new programme to be known as Renovating Bain and Grants Towns (RBGT), seeks to address home and business ownership and the creation and maintenance of an attractive and safe physical environment throughout inner New Providence.
The objectives of RBGT are several including the following:
Renewal of Inner New Providence by upgrading its physical appearance;
Empowerment of residents through ownership of decent housing; and acquisition of title to land
Provision of skills training, employment and entrepreneurial opportunities for inner city residents.
Duty free exemptions for construction materials for the renovation of houses or businesses similar to that provided in the Down Town area
Cessation of expulsion of students from schools for whatever reason before they reach the formal age for school leaving and provide an alternative institution, within the constituency, for the continuation of their education, including skills training.
Elimination of fees for students to sit national examinations to enable all students to have a fair chance to be assessed at the appropriate stages in their education.
Mobilise community, religious and business leaders to form a BGT Community Council, as a consultative body to advise the Member of Parliament on matters affecting the community until Local Government is introduced to New Providence
Development of a multi-purpose Community Centre to centralise the array of youth and adult empowerment programmes including, a community band; computer programmes; adult literacy and vocational programmes; after school activities for children; legal aid clinic; employment agency; crime watch group and sports and recreational activities, etc.
Notices
RFP - Investment and management services relating to remediation and operations of the Harold Road Landfill facility

See details...

Continuation of Direct Interim Payments to Qualified Policyholders of CLICO

See details...