Bahamas welcomes new Ambassador from China
| | |
| --- | --- |
| Authored by: | Lindsay Thompson |
| Source: | Bahamas Information Services |
| Date: | December 5, 2013 |
The Commonwealth of the Bahamas is looking forward to strengthening its relationship with the People's Republic of China across a wide-range including trade, technical exchange, education and tourism.
This, according to Governor General Sir Arthur Foulkes, as he accepted Letters of Credence from Yuan Guisen, Ambassador of the People's Republic of China, during a ceremony at Government House on Thursday, December 5, 2013.
He replaced  Ambassador Hu Shan, who left the country November 9, 2013.
The Bahamas and China established diplomatic relations16 years ago and have engaged in a number of technical and cultural agreements beneficial to both countries.
"People from China have come to The Bahamas, witnessed first-hand and contributed to the development of our country for many decades," Sir Arthur said.
Noting that China's progress and contribution to the global community is remarkable, he said China has developed with great rapidity and has shared with other developing countries its experience, knowledge and resources to assist in their development.
"Although The Bahamas and China are separated by great distance and cultural differences, the bond between our countries has continued to strengthen since diplomatic relations was established in 1997.
"Together we have built a relationship based on good will, mutual trust and respect which continues to be displayed in the sphere of international relations as well as through bilateral cooperation," Sir Arthur said.
In this regard, he thanked the Government of China for its continued cooperation, commitment and generosity to The Bahamas as it pursues national development goals.
Amongst the contributions to The Bahamas in the form of infrastructural development are the construction of the Thomas A Robinson National Stadium and the Airport Gateway Project. Additionally, China has facilitated the development of the Freeport Container Port in Grand Bahama, as well as the Baha Mar project on Cable Beach.
"The initiatives launched by your government in The Bahamas and the region are most commendable, and for this we are most grateful," Sir Arthur told the ambassador.
He added: "During your tenure, we look forward to a strengthening of our relationship across an ever-broadening range including trade, technical exchange, education and tourism."
Ambassador Yuan, 58, has been a career diplomat for over 30 years. He served in European-Central Asian countries and in the Republic of Ecuador. He pledged to exert his efforts to further develop the friendly relations and cooperation between both countries.
The Bahamas welcomes newly appointed Ambassador of the People's Republic of China to the Commonwealth of the Bahamas, during a ceremony at Government House on Thursday, December 5, 2013. Pictured is Governor General Sir Arthur Foulkes, accepting Letters of Credence presented by Ambassador Yuan Guisen. (BIS Photo/Derek Smith)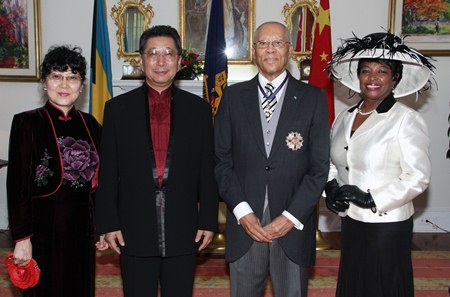 The Bahamas welcomes newly appointed Ambassador of the People's Republic of China to the Commonwealth of the Bahamas, during a ceremony at Government House on Thursday, December 5, 2013. Pictured from left are Madam Yang Hong; Ambassador Yuan Guisen;  Governor General Sir Arthur Foulkes; Lady Foulkes (BIS Photo/Derek Smith)