What is Junkanoo?
Junkanoo, a Bahamian national festival, is a kaleidoscope of colours and sound.  The rhythmic sounds of cowbells, goat skin drums and whistles, accompanied by an array of brass instruments, create a sweet musical beat that will move you; while brilliantly coloured costumes capture your eye, and bring much visual delight.  This bi-annual cultural highlight takes place on Bay Street in New Providence and other Family Islands during the early morning hours, from 1:00a.m. - 9:00a.m. on Boxing Day (the day after Christmas) and New Year's Morning.  Junkanoo can also be experienced on many celebrated occasions such as independence Day (July 10th).  There is also a Junior Junkanoo Parade in December, held in New Providence.
What is its Origin?
The true origin of Junkanoo is unknown.  However, its roots can be traced back to West Africa.  The most popular legend states that the name originated from John Canoe, an African tribal chief who demanded the right to celebrate with his people even after being brought to the West Indies in slavery,  During pre -and post -slavery days, Christmas was the greatest time for celebration in the Bahamas, and Junkanoo was the highlight.  This still remains today.
In the past, Junkanoo was a spontaneous event, and less commercialized.  The original Junkanoo Parade consisted of simple costumes of cloth, fringed paper and facial painting.  There was also the use of sea sponges and other natural materials such as leaves on a type of netting worn over the body.  The basic instruments that were used still remain the same.  However, some home-made instruments such as conch shell, horns and poinciana pods have been replaced by modern instruments.  Today, the addition of brass instruments create the melody of the music.
The Original Junkanoo Costume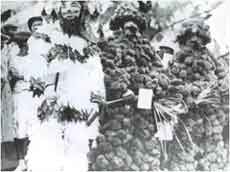 Junkanoo, named after the West African John Canoe Festival, originated in the Bahamas around the 17th century as a masquerade.  Slaves with their faces hidden under a flour paste, celebrated on Boxing Day and the day after Christmas.  Later, flour paste was replaced by wire masks held on a stick.  Junkanooers blew bugles and horns, and beat on goatskin drums.  In the late 20's, when sponging was big business in the Bahamas many Junkanooers covered themselves totally in sea sponges!  Our 1935 photo shows a Junkanoo in a fabric costume skirted with strips of rags: "he danced for 'coppers' to fill the money pouch hanging from his wrist." 

By the mid-thirties, the entire costume was fringed.  Prizes were awarded, and group participation began.  Soon, the costumes were fringed, not in cloth, by newspaper, then multi-coloured crepe paper.  By the way, it wasn't until the sixties that women participated in Junkanoo!
Today, as a cultural expression, Junkanoo is highly revered.  From June or July on, participating groups such as the Valley Boys lead by Gus Cooper, The Saxons lead by Percy Viola Francis, and Roots, create elaborate costumes and floats from cardboard, wire, styrofoam and paper mache.  Starting at three in the morning on Boxing Day and New Year's Day, revelers parade, or 'rush' on Bay Street in Nassau, and in some of the Family Islands.  Shrieking whistles, shaking cowbells and beating drums echo through the air.  When the 'rushes' end, at about 8:00am, prizes are awarded to groups with best costumes, music and theme portrayal.

Visitors who are here over the Christmas and New Years Day holiday period should be sure to watch this boisterous parade which represents an important aspect of Bahamian culture.  Others can catch a little Junkanoo during the summer at various Hotels, and winning floats from recent festivals can be seen at the Junkanoo Expo Museum on Prince George Wharf.  Open daily, admission is $2.00 for adults, 50 cents for children under 12 years.
What is Junkanoo Like Today?
The Junkanoo Parade, as we know it today, exists only in the Islands of The Bahamas, although it has been known to exist along the East Coast of the United States, and around the Carolinas.  It has developed from a street festival to a grand parade, equal to any of the Pan-African festivals that take place around the region such as Mardi Gras and Carnival.  Members of the community join organised Junkanoo groups, with names such as:  "The Valley Boys," "Saxons," "Roots," and "One Family."   The organised groups consist of  500-1000 members. Junkanoo Groups, are divided into three categories (criteria for judging):  Musicians, Dancers and Costumers.  They vie for cash prizes, but more importantly, the prestigious title of Best Junkanoo Group.  After nearly a year of preparation and coordination of the closely guarded, themes, costume designs, musical compositions and choreographed dances, the competition is fierce among the groups.  There are also smaller less organized, by equally competitive groups referred to as "Scrap Groups." Participants represent a broad cross-section of the community.  Anyone is invited to participate in Junkanoo, as long as he or she follows the rules of the National Junkanoo Association.  Visitors to the Islands of the Bahamas can make arrangements through their hotel to join the festival.
This picturesque splendor is a creative depiction of fantasy and reality. Junkanoo themes are visual lessons of The Bahamas -past and present, satirical statements , and notable events.
Costuming is a tedious process that demands tremendous skill and creativity.  Costumes begin with a selection of a theme.  Designers then create patterns on cardboard, which is the base of the costumes.  Once the costumes' structure is complete, hundreds of brilliantly coloured layers of fringed crepe paper are meticulously pasted on.  The fringe effect is what adds texture and dimension to these elaborate costumes.
What efforts are Being Made to Conserve Junkanoo?
Presently, there is a Junkanoo Museum located in Nassau which keeps   the winning   costumes on display.  The Junior Junkanoo programme is a step towards conserving our heritage, as it is passed on to the youth of the Bahamas.
Junkanoo is the Soul of Bahamian Culture and it is the only aspect of our Society that stands out as being truly Bahamian.  Junkanoo has developed into a unique art form and a style of it's 
own and soon will become a world class festival.  Junkanoo is "the spirit of the Bahamas" and it is the main
attraction of the Bahama Islands during theYuletide festive seasons.Our rhythmic sound of cowbells and our distinctive beat of the goat skin drum the kalaidisope of creative costuming, the jumping and hoping dance step's separates us from every other country.  No one really knows the true origin of Junkanoo.  Junkanoo is called by many names.  Some say John.
Notices
Related Links
Junkanoo Regulations
Junkanoo Winners
Useful Links
Upcoming Junkanoo Parades
Boxing Day Parade:
December 26th, 2011
New Years Day Parade:
January 2nd, 2012