Fishing in The Bahamas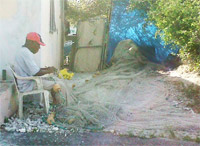 Fishing has always been an integral part of Bahamian history and culture.  In earlier times, the Arawaks and Caribs used bone hooks to catch fish and were known to use remoras (suckerfish) to catch sea turtles.  Many accounts written by the first Europeans to come to what they called 'The New World' credit fishing with the survival of those who dared to cross the Atlantic.  In the modern Bahamas, a weekend does not go by when the local 'fish fry' on a number of islands is peppered with Bahamians in search of fresh snapper or conch salad (cerviche).
Fishing in The Bahamas can be split into three major categories.  These are subsistence, recreational, and commercial fishing.  On a number of Family Islands, many eat fish to supplement their diet with high quality protein from the sea.  Farming in The Bahamas still has some limitations and it is the sea that provides people with the food they need.
Recreational fishing is the backbone of the economy of a number of Family Islands in the Bahamian Archipelago.  Bimini, in the northern Bahamas, is world renowned for big game fishing in offshore waters as well as bonefishing on the flats.  Ernest Hemingway spent time on the island and many say it was Bimini that inspired his novel 'The Old Man and the Sea'.  Many come to islands like Bimini, New Providence, Long Island, and others to catch their dream blue marlin or do battle with the bonefish of the flats.  The Bahamas is the recreational fisher's paradise.
Commercially, Bahamian marine resource exports are in the tens of millions each year.  Blessed by a geology that includes both highly productive shallow banks that are home to a number of commercially lucrative demersal species, and deep water passages that allow for the migration of more ocean going animals, the country is coveted by local commercial fishers.  Commercial fishing in The Bahamas is an enterprise reserved for Bahamians.  
 
Related fisheries information:
(1) Permits (on forms.bahamas.gov.bs)
(2) Fisheries Resources (on laws.bahamas.gov.bs)
(3) Marine Mammal (on laws.bahamas.gov.bs)
Notices
Related Links
Useful Links