Rugby in The Bahamas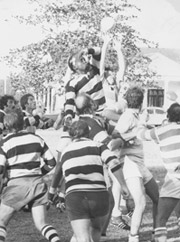 It is thought that Rugby was introduced to the Bahamas in the early 1900's when a Charles Roger Higgs returned from Ley's school in Cambridge England where he had learned to play the game. Certainly by 1910 regular games were being played on Eastern Parade on Friday afternoons.
Early games were played between the Reds & the Blues as visiting teams were rare in those days. There is however records of a game against the Australian warship HMAS Sydney which was based in the Bahamas during the First World War.  Between the wars, three clubs existed in Nassau - The Bahamas Boy Scouts, St. Michaels, and St. Georges Rugby Clubs - with games still played on Eastern Parade.  During the post war years only the Sea Scouts remained as a viable club.  It was not until the late 50s that rugby became popular again.  The greater availability of air transport meant that teams could visit the Bahamas.  Among the first visiting teams were the Ivy League Colleges, Dartmouth and Yale, whilst Notre Dame, Amherst and Minnesota were recorded as having also visited during that era.
A major milestone for rugby in Nassau was the opening of the Winton Rugby ground at Winton in 1980 on some 10 acres of land.  All games are played at this venue and Rugby is one of the few if only sport in the Bahamas to own there own ground. Freeport also has excellent facilities in Grand Bahama and between the two locations we easily have the best facilities in the Caribbean.
The Bahamas Rugby Union was formed in 1973 and is a member NACRA (the North American and Caribbean Rugby Association).  The Bahamas Rugby Union is a founding member of the Pan American Rugby Association and from 1994 a full member of the International Rugby Board (IRB).
Since becoming a member of the IRB the Bahamas has played in qualifying Tournaments for The Rugby World Cup at both Sevens & Fifteens and in 1998 played in the Commonwealth Games in Malaysia where we played against Canada, Samoa, Tonga and then the New Zealand 'All Blacks'.
Chronological History of Clubs
Nassau Rugby Club
1963 - 1971
 
Buccaneers
1963
Lasted through the 80s
Freeport Rugby Club,
1965
Defunct
Grand Bahama
 
 
Baillou Rugby Club
1967
Formed from the Buccaneers.  Lasted through the 80s
Arawaks
Early 1970s
Defunct
Bootleggers
Early 1970s
Defunct
T-Bird Flyers a.k.a
Waterloo
1984 - 1996
 
Cuckoos
1997
 
Potcakes
2010
 
Information provided by:  Peter Muscroft
Notices
Statement from the Office of The Prime Minister on the Prime Minister's Travel to the State Funeral of HM Queen Elizabeth II and UNGA 77th Session

See details...
Useful Links