Fisheries Officers Attend Enforcement Workshop
| | |
| --- | --- |
| Authored by: | Ministry of Agriculture and Marine Resources |
| Source: | Ministry of Agriculture and Marine Resources |
| Date: | March 8, 2019 |

Minister Pintard
Nassau, The Bahamas:  The Department of Marine Resource recently held a three day  Technical Fisheries Officers Enforcement workshop (on 25 – 27 February 2019), at Super Clubs Breezes hotel under the theme "Working Towards a Better Understanding."
The objective of the workshop was to commence the process of staff training for Fisheries Officers especially  new staff which have had no formal training to date in matters specifically related to fisheries enforcement; Fisheries Legislation inclusive of the Fisheries Act and supporting legislation; Fisheries Prosecutions, report writing, Fisheries Resources (Flats Fishing) Regulations 2017, as well as to address other matters and issues Addressing Fisheries Enforcement Concerns faced by theTechnical Staff in the field  and  on the job.  
 Present at the workshop were the Permanent Secretary, Senior Officials of the Ministry of Agriculture and Marine Resources, including representatives from the Bahamas Agricultural and Industrial Corporation (BAIC);  Bahamas Agriculture Marine Science Institute (BAMSI), Royal Bahamas Defence Force,  Royal Bahamas Police Force,  Bahamas Customs Department, Senior Officers of  The Department of Marine Resources and  Family Islands Fisheries Officers from all the major Islands.
Minister Pintard, in his opening address said that the fishing industry plays an important role in the Bahamian economy and way of life and offers a meaningful source of livelihood for thousands of Bahamians. He pointed out that currently, the industry contributes some 1.5% of the Gross Domestic Product (GDP) and the potential for further contribution can be enhanced through sustainable development of the sector which is critical to the Government's policy for economic diversification.
He further stated that in order for sustainable development of the fishing industry to continue "it is essential that the Department of Marine Resources possess the necessary capacity to conduct the required tasks.  One key way of building this capacity is through consistent training and that  Officers must develop a wide range of skills, deepen their knowledge of the laws and associated regulations; policies; relevant programmes and projects that impact the sector. Training in various areas of law enforcement is crucial if each Officer is going to effectively carry out their mandate which  is especially true with respect to those who reside in the Family Islands where major fishing communities exist".
Minister Pintard stated  that the workshop was a continuation for some and the first of many training exercises to which they would be exposed.  Officers from  Grand Bahama; Abaco, inclusive of Moore's Island; Bimini; The Berry Islands; North, Central, Mangrove Cay and South Andros; Exuma; Eleuthera; Long Island;  Cat Island; Acklins Island; Crooked Island; Mayaguana and of course New Providence  participated in the exercise.   Minister announced that are the Ministry is  poised to increase more technical  officers to strengthen our preventative programme, detection and apprehension. In addition, The Department  of marine resources is  in the process of upgrading the fleet of patrol boats and vehicles.
Officers were encouraged to discuss the importance of ethical and lawful behavior as they are the gate keepers, stewards of our marine environment, and protectors of our future. They must also discuss specific steps that must be taken to safeguard at risk species such as the Nassau Grouper and Conch and explore the specific steps that must be taken to enable suitably trained Fisheries Officers to carry arms while on patrol and to share various technologies that can be helpful in improving their work in the sector.
Minister Pintard concluded by  wishing the participants a  successful workshop.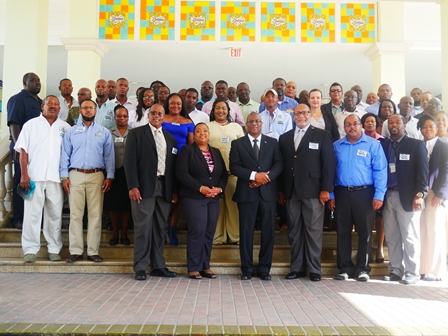 Front row:l to r:Mr. Edison Deleveaux, Actg. Director of Marine Resources, Ms. Phedra  Rahming, Permanent Secretary; Hon. Michael  Pintard, Minister of Agriculture and Marein Resource s, Mr. Gregory Bethel, Actg. Director of  Marine Resources and Dr. Lester Gitten, Fisheries Officer. Flank by Fisheries Officers
Agency Notices
EOI - Public Private Partnership for the Modernization of the Produce Exchange, Nassau and Packing Houses, Andros, Eleuthera, Cat Island and Long Island

See details...
Useful Links