Minister Opens Groundwater Management Workshop
| | |
| --- | --- |
| Authored by: | Ministry of Agriculture and Marine Resources |
| Source: | Ministry of Agriculture and Marine Resources |
| Date: | March 10, 2020 |
Nassau: The Bahamas:  The Bahamas Agricultural Health and Food Safety Authority (BAHFSA), held a training workshops on February 19-21, at the Paul Faquarhson Building at the Police Head Quarters on East Street under the theme "Groundwater Management".  
The objective of the workshop was  to understand strategic development and adaptation planning for effective groundwater management;  understand the importance of legislation and regulations as it pertains to effective groundwater management and to provided an opportunity for discussion on current water management issues and agencies with similar focus, to form better coordination efforts. 
The workshop was held   in conjunction with The Caribbean WaterNet (Cap-Net) in collaboration with The University of the West Indies (UWI), Global Water Partnership-Caribbean (GWP-C), the Caribbean Agricultural Research and Development Institute (CARDI), the Caribbean Water and Wastewater Association (CWWA),  facilitated the first of two Integrated Water Resources Management (IWRM) and was attended  by sixteen (16) public and private agencies with responsibility for some form of water management
The Hon. Michael C. Pintard,  Minister of Agriculture & Marine Resources in Openind the workshop.  In his opening remarks he said that there must be a political will to make the tough decisions needed to protect our groundwater resources and that agencies need to know their role in order to avoid duplication of responsibilities.
He further stated  that more inter-sectorial cooperation is fostered as there is the need for capacity building and public/private partnerships to invest in the ecosystem, the latter critical in the establishment of opportunities in economic and social entrepreneurship that would bring attention to the threat that exists with very limited water resources.
 Minister Pintard  furher stated  that there is the need to strengthen an enforcement regime to deal with those who contaminate our marine and terrestrial environments due to unregulated development" 
The Hon. Michael C. Pintard concluded by saying that, all stakeholders should have access to the quantity and quality of water resources; that there needs to be more focus on economic value that looks  at new technologies that use less water and less land, e.g. hydroponics and aquaponics; and finally, a  focus on sustainability, as this occurs with the implementation of regulations and enforcement that will ensure that there are water resources for future generations.
Center is the Hon. Michael  Pintard, Minister of Agriculture and Marine Resources flanked by  Presenters and Participants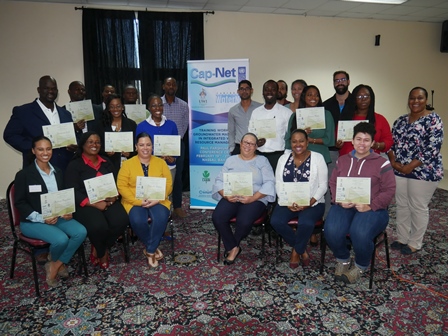 Participants posing with completion certificates
Agency Notices
Useful Links