Strengthening of Alliances Expected from 9th Inter-American Meeting of Ministers of Education
| | |
| --- | --- |
| Authored by: | Bahamas Information Services |
| Source: | Bahamas Information Services |
| Date: | February 1, 2017 |
NASSAU, The Bahamas – Building and strengthening of alliances are among the expected outcomes of the 9th Inter-American Meeting of Ministers of Education scheduled to take place February 9-10 at Atlantis, Paradise Island.
The Minister of Education, Science and Technology the Hon. Jerome Fitzgerald, during a Press Conference January 31, 2017 at the Ministry's headquarters announced that the alliances have actually already begun.
He said, "During the conference, a memorandum of understanding will be signed between the Ministry of Education, Science and Technology (MOEST) and the General Secretariat of the Organization of American States - Scholarship and Training Programs. This agreement will provide scholarships for the completion of technical studies, certificates, undergraduate and graduate degrees at colleges and universities, identified by the OAS and the Ministry, in OAS Member States and Permanent Observer Countries.
The Press Conference was attended by the Hon. Fred Mitchell, Minister of Foreign Affairs and Immigration; Janice Knowles, Deputy Permanent Secretary and 9IAMME Co-Chair, Local Organizing Committee (LOC); and Seretha Clarke, Deputy Director and 9IAMME Co-Chair of the LOC and representatives of various government agencies, ministries and departments that serve on the LOC.
He announced that Bahamians will have access to the OAS's Consortium of Universities comprising almost 40 universities that will offer partial or full scholarships to Bahamians. Twenty-nine academic areas and 27 technical areas have been identified as "priority" areas of the MOEST.
Moreover, 15 Partnership Programs for Education and Training are being agreed upon, with most catering to those pursuing master's degrees.
Furthermore, Bahamians will have access to 29 professional development courses, most of which are available online, at a significantly reduced cost.
Minister Fitzgerald said the MOEST remains "committed" to professional development and has made it mandatory for teachers to attain a minimum number of credit hours per year. As a result of the alliances, teachers will have access to the Inter-American Teacher Education Network, the goal of which is to improve the quality of education in the Americas through the exchange ideas and resources.
Highlights of the 9IAMME include an exhibition that will feature the top winners of the National Best Practice Awards, as well as best practices from other OAS nations.
Onsite workshops will be facilitated by some of the vendors participating in the exhibition. Educators and education stakeholders will be able to take advantage of the information and best practices that experts in education are expected to share.
The exhibition will cater to the full gamut of educational products and services from local and international vendors and will be open to the public.
Minister Mitchell pledged the Ministry of Foreign Affairs' full support in collaboration with the MOEST in the upcoming meeting of Inter-American Ministers of Education.
Members of the Local Organizing Committee for 9IAMME are pictured.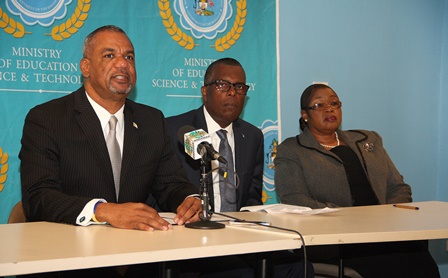 Pictured from left are: Minister of Education, Science and Technology the Hon. Jerome Fitzgerald, Minister of Foreign Affairs and Immigration the Hon. Fred Mitchell, and Seretha Clarke, Deputy Director, the Ministry of Education, Science and Technology and Co-Chair of 9IAMME.  (BIS Photos/Patrick Hanna)