Grand Bahama Welcomes First Cruise Ship Since Hurricane Matthew
| | |
| --- | --- |
| Authored by: | Robyn Adderley |
| Source: | Bahamas Information Services |
| Date: | November 9, 2016 |
FREEPORT, Grand Bahama - Grand Bahama welcomed the first cruise ship, Carnival Valor, with some 3,281 passengers at Freeport Harbour on Monday, November 7, 2016, since Hurricane Matthew on October 7.
Hurricane Matthew passed over Grand Bahama at a Category 4, destroying everything in its path. Residents and businesses, one month later, are still working diligently to return to normal.
According to Director of Tourism for Grand Bahama, Betty Bethel, the vessel's coming into Grand Bahama on Monday shows Carnival's commitment to Grand Bahama -- to have come back so quickly following the storm. This, she added, could have only happened with the hard work of the Grand Bahama Port Authority, Emera, Sanitation Services and all of the other companies that worked diligently to bring the island back as quickly as they could.
"With the various partnerships," she continued, "we are once again able to return commerce to the island. The cruise ship business is essential to the mix of revenue generation daily. Not just to the Port but to all of the various vendors, the transportation, the tours and attractions, the authentic artisans. So we're very, very pleased that Carnival Valor is in today."
To welcome the cruise line back to the island, the Ministry of Tourism gave them a grand welcome with a taste of Goombay Punch, Junkanoo, and a band that performed throughout the day.
She said, "The Ministry of Tourism is very excited to be out here welcoming back Carnival Cruise Lines."
Carnival Valor is the first cruise ship to visit the island since the hurricane.
Passenger ferry, Baleria, which cruises between Fort Lauderdale and Freeport, Grand Bahama has continuously serviced the island bringing not only guests, but the much-needed cargo that assists with relief efforts, as well.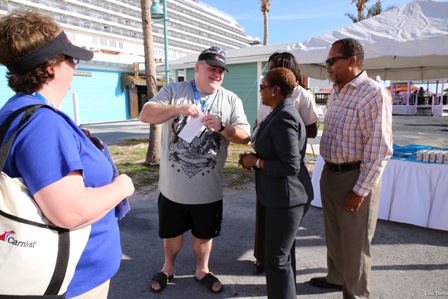 VALOR PASSENGERS RECEIVE GRAND WELCOME – The first cruise ship to come to Grand Bahama since the passing of Hurricane Matthew on October 7, was Carnival Valor on Monday, November 7, 2016 – one month later.  Bringing 3,281 passengers, the visitors were treated to Goombay Punch, Junkanoo and the pulsating sounds of one of the local bands.  Shown are Betty Bethel, Director of Tourism for Grand Bahama along with Russell Miller, Chairman of the Grand Bahama Island Tourism Board, welcoming a few of the passengers at Freeport Harbour.   (BIS Photo/Lisa Davis)