Links helps to bridge the digital divide for students with donation of tablets to Ministry of Education
| | |
| --- | --- |
| Authored by: | Kathryn Campbell |
| Source: | Bahamas Information Services |
| Date: | September 2, 2020 |
NASSAU, The Bahamas – The donation of new electronic tablets by the Nassau (Bahamas) Chapter of the Links, Incorporated will assist the Ministry of Education (MOE) in fulfilling its commitment to providing equitable, quality education to students in the COVID-19 era. 
The Links, a volunteer service organization of women, presented the MOE with 40 new devices along with keyboards, representing a $10,000 investment during a short ceremony at the grounds of the MOE headquarters, University Blvd. 
Accepting the donation Wednesday, September 2, the Hon. Jeffrey Lloyd, Minister of Education, expressed gratitude to the women of Links.
He said the organization is demonstrating and emphasizing the service and generosity the nation has always been known for.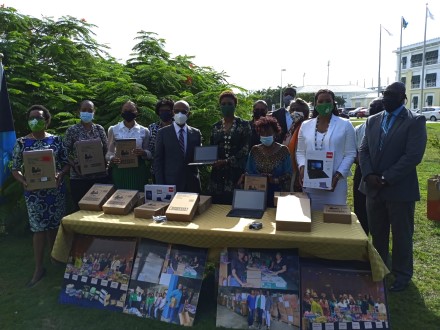 The Links, Incorporated made presentation of 40 electronic tablets, with keyboards attached, to the Ministry of Education, September 2, 2020 at the Ministry.  Minister of Education the Hon. Jeffrey Lloyd, along with Ministry officials, thanked the organization for its donation and continued community service.  (BIS Photos/Ulric Woodside)
"This is very good and this is what we need. If you can do something now -- not textbooks, not writing books -- a device -- this is your school, your library, your teachers, your classmates and instructors," said Minister Lloyd. 
Sharlyn Smith, President, said the Nassau Chapter with the support of the Links, the Links Foundation and friends of Links is delighted to support the virtual learning platform of the Ministry in this way. 
Today's donation marked the latest phase of assistance by the organizations to communities impacted by Hurricane Dorian. Phase one comprised the distribution of over 45,000 pounds of relief supplies to 700 families in Nassau, Grand Bahama and Eleuthera. 
"For Phase 2, we acknowledge that Covid-19 has meant that schools across The Bahamas, and indeed the globe have had to close.  It soon became apparent that the digital divide was a threat to the education of children who had, in the same academic year, faced the challenges caused by the Hurricane.    The digital divide, therefore, was even more acute in these areas and threatened and threatens the continued education of students in these areas.  To assist with decreasing the disparity in the access to education among children in communities impacted by Hurricane Dorian, we are pleased to provide to the MOE, 40 new tablets with keyboards attached," said the President.
Established in the United States in 1946, the Links, Incorporated has a long tradition of promoting and engaging in educational, civic and cultural activities to enrich the lives of the members of the communities that they serve.
Notices
Statement from the Office of The Prime Minister on the Prime Minister's Travel to the State Funeral of HM Queen Elizabeth II and UNGA 77th Session

See details...