Minister Ferreira Announces Initiative to Ban Single-Use Plastics By 2020
| | |
| --- | --- |
| Authored by: | Eric Rose |
| Source: | Bahamas Information Services |
| Date: | April 23, 2018 |
Minister of the Environment and Housing the Hon. Romauld S. Ferreira (left) speaks at the Single-Use Plastics and Styrofoam Ban Press Conference, held at the Bahamas Chamber of Commerce and Employers Confederation (BCCEC) Head Office, on April 23, 2018. Also pictured are BCCEC Chief Executive Officer Edison Sumner and Chairman of BCCEC's Energy and Environment Committee Debbie Deal. (BIS Photo/Eric Rose)
NASSAU, The Bahamas – In an effort to simultaneously address marine pollution and waste management, Minister of the Environment and Housing the Hon. Romauld S. Ferreira officially announced, on April 23, 2018, his Ministry's initiative to ban single-use plastics – such as shopping bags, food utensils, straws and styrofoam food containers – by 2020.
"My Ministry will work to develop a phase-out plan for single-use plastics such as plastic bags collected at point-of-sale, straws, styrofoam food containers and plastic utensils," Minister Ferreira said, at a press conference held at the Bahamas Chamber of Commerce and Employers Confederation (BCCEC) Head Office.
Among those present were representatives of a number of environmental groups and stakeholders, pledging their support. Among them were Ardastra Gardens, Atlantis Resort, the Bahamas National Trust, the Bahamas Reef Environment Education Foundation (BREEF), Cans for Kids, Cat Island United, Creative Nassau, Friends of the Environment (Abaco), the University of The Bahamas
"We will also move to make the release of balloons into the air illegal, as they end up in our oceans, releasing toxins and injuring marine life," he added. "Additionally, we will become a signatory to the Clean Seas Campaign, which was launched in January 2017 by the United Nations Environment. It aims to increase global awareness of the need to reduce marine litter by engaging governments, the private sector, and the general public."
Minister Ferreira noted that, with the assistance of a diverse group of environmental professionals, the Bahamas Chamber of Commerce and the business community at large, relevant governmental agencies and educational institutions, his Ministry will embark on a nation-wide public consultation and educational outreach campaign.
"We will visit communities and schools, hold town hall meetings and meet with businesses to gather valuable data that will assist us in developing a fair and reasonable phase-out plan by 2020 and associated legislation," he said.
"In the coming weeks we will be reaching out to businesses that have already incorporated sustainable food products within their daily operations," he added. "As the Minister of the Environment and Housing, I must commend your efforts to take responsibility for how your business impacts our environment. Thank you."
According to the Ministry, the Plastic Task Force includes members such as the Ministries of the Environment and Housing, Tourism, Finance, and Health; the Customs Department; the Attorney General's Office; the Bahamas Plastic Movement; The Nature Conservancy; Atlantis and Baha Mar Resorts; and the University of The Bahamas.
Minister Ferreira pointed out that, with the assistance of the BCCEC, his Ministry would also start meeting with restaurants, suppliers, importers and various food vendors. The Ministry and the BCCEC also signed a Memorandum of Understanding on the initiative, during the press conference that day.
"To engage students, I'm pleased to announce our logo competition for students ages 13 to 18," Minister Ferreira said. "Logos that represent our plastic and styrofoam ban initiative are to be submitted via email by June 4th, at 4 pm. The competition flyer will be shared through the media and on our Facebook page."
Minister Ferreira noted that The Bahamas is a "delicate"country with an extensive marine environment that is fundamental to its health and economy.
"For decades, human activities have negatively impacted the marine environment resulting in the death of coral reefs, collapse of fish populations and marine pollution," Minister Ferreira said. "Coupled with this, we have the prevailing challenge of finding waste management solutions that must be tailored to our small size, but meets our needs within a modern economy."
Minister Ferreira said that, like many other countries, The Bahamas has an "exacerbating" plastic problem that held significant economic and environmental costs.
He cited a study conducted by the Ellen MacArthur foundation found that at least eight million tons of plastic waste ends up in the world's oceans each year and will remain there for at least a century. He added that, according to the study, by 2025, it is projected that there will be one ton of plastic for every three tons of fish, with plastic trash eventually outweighing fish in the oceans.
"Like other small island developing states, our marine environment is an integral part of our island lifestyle," Minister Ferreira said. "Due to our location, it is also expected that we will inherit unwanted marine debris as a result of ocean currents and wave patterns, adding a compounding impact to our tourism and fishing industries.
"If you didn't know, plastic and styrofoam do not decompose," he added. "They break down into much smaller micro-pieces which are often mistaken for food by birds, turtles, and fish. Injuring or even causing death, various marine species have been impacted by marine debris through entanglement, ingestion, chemical bio-accumulation, smothering and the altering of habitats."
Causing adverse effects on their health, Minister Ferreira said, plastic contamination is passed up through the food chain, accumulating from prey to predator and ultimately culminating in humans.
"Now, we have come full cycle and find ourselves eating our own plastic waste," he pointed out.
Minister Ferreira noted that, likewise, styrofoam usage is similarly disastrous. Manufactured with greenhouse gases that affects the ozone layer and petroleum, styrofoam is non-sustainable and a highly polluting product, he added.
"When used in microwaves styrofoam releases fluorocarbons into the air and several other poisonous gases are absorbed into whatever food item it contains," Minister Ferreira stated.
"Many places have already banned the use of styrofoam, particularly in warming foods in schools and restaurants," he added. "Additionally, ordinary heat from the food or drink releases these toxins into the contents of the styrofoam containers.
Chemical leaching from styrofoam, Minister Ferreira said, had been linked to acute health effects such as the irritation of the skin, eyes and upper respiratory tract and gastrointestinal system.
"Research has also connected the long-term exposure to styrofoam to minor effects on kidney function and menstrual cycles of women," he noted.
Minister Ferreira also addressed the impact of plastic pollution on the Bahamian tourism sector.
"A survey done by the Ministry of Tourism found that 70% of visitors come to The Bahamas for its beaches," Minister Ferreira noted. "However, the Bahamas Plastic Movement estimates that if the rate of plastic pollution on beaches increases, it could cause up to BSD $8.5 million in tourism losses annually for the country. Thus, the country urgently needs laws and swift action to protect its people, environment, and economy."
Noting the negative impacts plastic and styrofoam have on health, the marine environment, and the tourism sector, the initiative mentioned earlier is part of a much bigger picture, Minister Ferreira said.
"As my Ministry works diligently to develop effective solutions for landfills and scattered dumpsites throughout The Bahamas, we must also address the type of waste we dispose of – on a daily basis," he said. "By reducing or even eliminating harmful waste streams, we will move this country one step closer to have an efficient and sustainable waste management plan."
Minster Ferreira stated that, along with reducing health and environmental impacts, the ban was a "great opportunity" for the creation of jobs.
"To all the artists, straw vendors and creatives amongst us, we need you to get creative," he said.
"Let's redesign the traditional crocus-sack bags and add some Androsia and a dash of our native straw."
Minister Ferreira appealed to the general public by stating that the country cannot achieve its goal by 2020 without their support and cooperation.
"We value your input and look forward to engaging you throughout this process," he said.
"In an effort to lead by example, my ministry has officially banned the purchase and supply of styrofoam cups in our offices," he added. "Instead, we encourage all employees to bring their own mug and reusable water bottles to work. we are working to expand our office sustainability plan so that it may be echoed throughout the public sector."
Minister Ferreira said, to every Bahamian, he encouraged them to start making lifestyle changes and "live differently".
"Perhaps, Jane Goodall – arguably the most famous anthropologist – said it best when she opined, 'You cannot get through a single day without having an impact on the world around you. What you do makes a difference and you have to decide what kind of difference you want to make'," he said.
"Therefore, reduce your plastic and styrofoam usage by refusing straws, invest in smart plastic and styrofoam alternatives, and carry reusable bags to the grocery store and start bringing a reusable bottle and mug to work," he added. "Studies have shown that these small lifestyle changes has resulted in a reduction of more than 60% of plastic and styrofoam entering our environment.
"This is one of those great fights of our generation and, as Ernest Hemingway aptly said, 'The Earth is a fine place and worth fighting for'."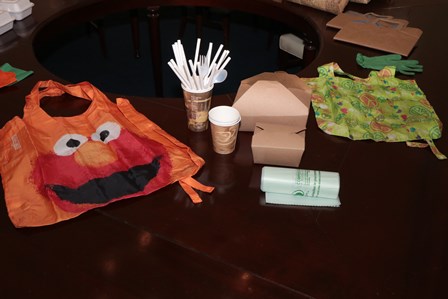 A number of bags and containers made of sustainable materials, as they were displayed at the Single-Use Plastics and Styrofoam Ban Press Conference, held at the Bahamas Chamber of Commerce and Employers Confederation (BCCEC) Head Office, on April 23, 2018. (BIS Photo/Eric Rose)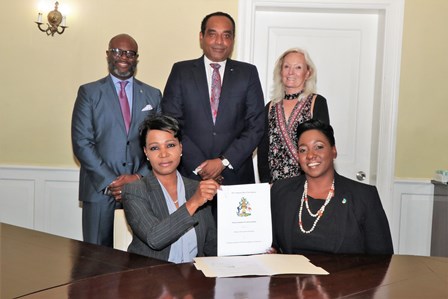 Minister of the Environment and Housing the Hon. Romauld S. Ferreira (standing centre) pictured with signatories and stakeholders of the Memorandum of Understanding between his Ministry and the Bahamas Chamber of Commerce and Employers Confederation (BCCEC), during the Single-Use Plastics and Styrofoam Ban Press Conference, held at the BCCEC Head Office, on April 23, 2018. Pictured, seated (from left) are the document's signees Acting Permanent Secretary Janice Miller and BCCEC Vice-Chairman Khrystal Ferguson. Pictured standing with Minister Ferreira are BCCEC Chief Executive Officer Edison Sumner and Chairman of BCCEC's Energy and Environment Committee Debbie Deal. (BIS Photo/Eric Rose)
Notices
Public Comment on the Draft Bahamas National Standard - CREEBC

See details...

Public Comment on Draft Bahamas National Standards (ISO 14001:2015, 14020:2000, 14021:2016)

See details...