The Governor General Visits Devastated Areas in West Grand Bahama
| | |
| --- | --- |
| Authored by: | Robyn Adderley |
| Source: | Bahamas Information Services |
| Date: | October 20, 2016 |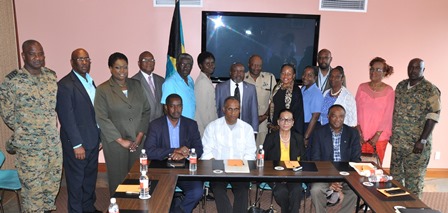 The Governor-General of The Bahamas, Her Excellency Dame Marguerite Pindling, on Wednesday, October 19, visited Grand Bahama following the devastation of Hurricane Matthew.  After the tour of West Grand Bahama, Dame Marguerite was given a briefing by Department Heads on the island. Accompanied by Minister for Grand Bahama, the Hon. Dr. Michael Darville, Her Excellency is seen with the various Department Heads at Pelican Bay Hotel where the briefing was held. (BIS Photo/Vandyke Hepburn)
FREEPORT, Grand Bahama – In the aftermath of Hurricane Matthew that impacted Grand Bahama during the first week of October, Her Excellency Dame Marguerite Pindling, Governor General of The Bahamas, on Wednesday, October 19, visited the ravaged areas of Grand Bahama particularly in West End.
Following this, Dame Marguerite was given a brief report from heads of The Royal Bahamas Police Force, Royal Bahamas Defence Force, Public Healthcare Authority, Customs Department, the Broadcasting Corporation of The Bahamas, Ministry of Education, Island Administrators and NEMA as to what was happening in their areas.
Minister for Grand Bahama, the Hon. Dr. Michael Darville who accompanied Her Excellency on the tour added, following the briefings, "From the passing of Hurricane Matthew, we've been working together as a unified force and team and together we have been able to accomplish what we have thus far, with the support of NEMA and Captain (Stephen) Russell. We would like to thank the NGOs as well as our private sector partners who are out there working along with us, bringing supplies and assisting, either for kind word or with humanitarian aid, also the Grand Bahama Port Authority which has been working very closely with the government."
The Minister also said, "We intend to work night and day to ensure we keep the essential services up and going and to work along with our Chamber of Commerce so that we can reactivate our business in the community, and we can ensure that jobs are secured and the commerce that is necessary for our economy to continue to grow is reestablished both in the industrial sector and the tourism sector.
"We want to thank you for coming. We realize that you are a woman of compassion and great concern for the people of this country, and in your official capacity as Governor-General, we realize that your presence here also speaks volumes of possible aid to the island of Grand Bahama."
He then thanked Her Excellency for her concern and her love for country.
Visibly moved by what she witnessed on her tour of West Grand Bahama, Her Excellency said, "First of all, I'd like to say that this could have been a different situation this morning. But I want to personally give thanks to Almighty God for bringing us this far. The material things, we can replace. We can't replace our lives."
Explaining why she was compelled to come to the island, Her Excellency said that she had seen on television and what she just witnessed, particularly in West End, "will remain with me for the rest of my life because the devastation, especially the Star Hotel, because that second floor is just hanging there. But we serve a good and gracious God and he is not going to put more on us that we can bare, and I want to thank all of you for the wonderful work you have been doing; God has a way of getting our attention, and I think the whole Bahamas now is working together in love and unity and it's the only way we are going to get this job done -- by disseminating information."
At this point, she said, it is important to keep talking to the people and letting them know what is going on because people are "very down" if they can't hear from the Minister to become aware of how soon they can move back into their homes.
"My government has its hands full, and as you know, it's going to take money to get this job done. It's not going to happen overnight…it's not going to happen overnight. I know you're doing your best and I'm proud of you. I just want to say thank you for what you are doing for the people. People are more important than things, and if we can just say a few kind words to people who are hurting."
Describing her feelings as "low," Her Excellency added that she wished she could speak with everyone so they can know how she is feeling. "The people are so poor and times are hard."
Dame Marguerite again thanked all those helping with the restoration effort.