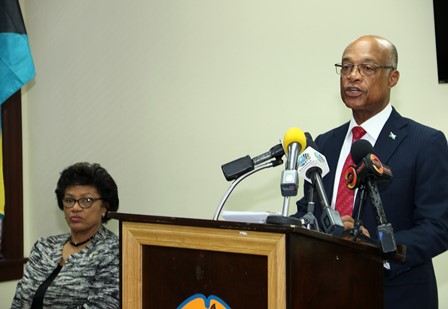 The Hon. Jeffrey Lloyd, Minister of Education, speaks at the Workshop on Global Citizenship Education.  Presenters and participants listen attentively during the opening ceremony.    (BIS Photos/Patrick Hanna)
NASSAU, The Bahamas – The United Nations Educationl, Scientific and Cultural Organization (UNESCO) in collaboration with the Ministry of Education opened a national workshop on Global Citizenship Education (GCED) Tuesday at the National Training Agency, Gladstone Road.  
The Hon. Jeffrey Lloyd, Minister of Education, said the workshop is intended to raise awareness about the contributions of GCED to strengthening the capacities of education systems to prepare students to think critically, and to relate to local, national and global challenges.  The workshop is also anticipated to serve as a sounding board for policymakers and stakeholders to discuss opportunities to expand GCED locally.
The one-day event for stakeholders including teachers, school administrators and police officers focused on topics including: The CARICOM Human Resource Development 2030 Strategy: In pursuit of better citizenship; overview of formal and non-formal practices targeted to children, youth and educators to promote the implementation of GCED in Latin America and the Caribbean; overview of The Bahamas' educational policy priorities; and main initiatives-establishing linkages and entry points for GCED and related issues.
Among those attending the official opening were Lorraine Armbrister, Permanent Secretary; H.E. Desmond Edwards, Ambassador & Permanent Delegate, Bahamas; Sharon Poitier, Deputy Director, MOE; and Deidre Bevans, Secretary General, UNESCO National Commission.
Minister Lloyd said because The Bahamas has just experienced a natural disaster of unprecedented  proportions,  the decision to hold the workshop necessity to rethink how education is addressed throughout the archipelago.